above: my all time favorite engraving: J.W. York & Sons Tuba (courtesy of Richard Barth)
Engravings on musical instruments are truly works of art. Good repairmen take great care not to disturb the engravings when restoring musical instruments. In the golden age of American brass instrument manufacturing, most major manufacturers offered gorgeous, lush engravings on their instruments. Before hand engraving was widely used, many manufacturers (mostly European) hand stamped or roll stamped their instruments.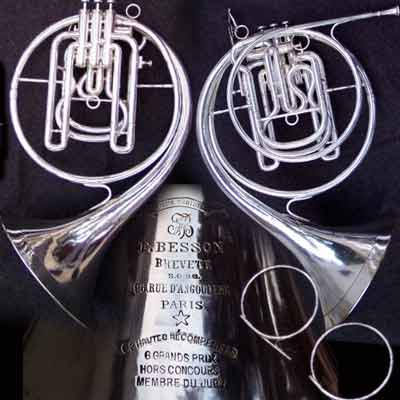 above: a French Besson horn with a stamp.
In the US, the tradition was to hand engrave instruments. Below are a few beautiful hand engravings:
above: Holton Sousaphone engraving
above: the famous Conn "lady face" engraving on a 12M Sax
Hand engraving is a special skill. Below is a video of hand engraving being done on a Yamaha soprano Saxophone.
Some modern manufacturers use machines to engrave their instruments. Below is a video of how Yamaha makes Trumpets. At 5:47 you can see their engraving machine.
Conn-Selmer also uses an engraving machine on their instruments. You can see their engraving machine in action at 1:09.
Some factories use a different technique for engraving. They use a process called "acid etching." The area to be engraved has a special stencil put over it that allows the acid to etch only the area to be engraved. Below is a picture of this process in action.
The end result of the acid engraving ends up looking pretty good. Below is a final example of the acid etch engraving.
And lastly, just because I love it, the 1924 Conn 50th Anniversary Jumbo Sousaphone!