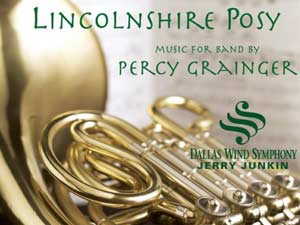 Lincolnshire Posy is absolutely one of my favorite pieces of music for band. Like many other great pieces of wind band literature Lincolnshire Posy is based on folk songs. Lincolnshire Posy movement 2, Horkstow Grange is full of rich, colorful chord changes and just enough tension from dissonance to tear your heart out. The second movement also has sweeping dynamic changes, which makes it great to use as a personal exercise.
My idea of a fun exercise is to get an excellent recording of Lincolnshire Posy and play along to the second movement. The music is not at all challenging in the technical sense. The tempo is fairly slow and the notes are mostly quarter notes. The fun part is using this piece of music to develop your tone quality, color, phrasing and dynamic range.
The idea when doing this is to move from note to note while maintaining a "sweet" sound, even though you will be pushing the dynamics into double forte territory. Try to keep the transitions smooth, and maintain a musical sound.
I think this is fun. I really love this piece. Below are a few Youtube videos. Enjoy!
Below: The Airforce Concert Band plays Lincolnshire Posey. Movement 2 begins around 1:35.
There are many fabulous recordings of this piece. You can find many of them:
Also, here is the recording I own (pictured at the top). It is the Dallas Wind Symphony performing Lincolnshire Posy.
And just for fun, here is a Minnesota Public Radio show discussing the Dallas Wind Symphony's recording of Lincolnshire Posy.